A landmark tower at the gateway to Niseko's vibrant Hirafu Village, Muse stands sentry to the active pedestrian boulevard that is the heart of social activity in Niseko's famed winter season.
Perched on the edge of the Upper Village bluff, it faces the majestic volcano Mt. Yotei, with panoramic views from every 2, 3 and 4 bedroom apartment. An outstanding roof terrace and garden on the 7th floor is equipped for outdoor entertainment and private relaxation. It boasts a magnificent 360-degree view of the beautiful, surrounding mountainous landscape, including the ski fields on the upper side as well as the village below.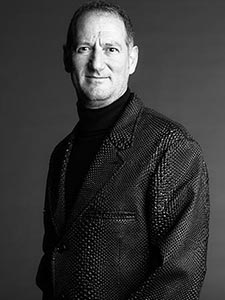 Riccardo Tossani, Architect
The architecture is clad with scale-like tiles that project at random angles from the façade, creating dramatic shadow effects in sunlight and catching wisps of snow for an ever-changing visual dynamic fully engaged with Niseko's unique climate and environment. The darker earth tone colors of the heavily glazed facades recall the volcanic character of the areas geology, as well as the vernacular hues of traditional Japanese buildings. Abundant terraces are not limited to apartment balconies but also include the sidewalk cafe patio serviced by North Face's concept Japan flagship store, which occupies the front two floors of Muse on Hirafu Boulevard. As a year-round shop with café and various amenities, it adds life and color to an increasingly energetic destination avenue.

Silver birch trees and abundant landscaping surround the building, and include vines that soften the rock wall plinth upon which the architecture proudly stands. Soft night lighting enhances the unique external wall texture, and playfully illuminates some of the more interesting formal architectural features.

Residents and guests of Muse enter through an elegant and spacious lobby with reception and guest services, a lounge with views of Mt. Yotei and a gallery of art pieces selected by Interior Architect Atsuko Itoda. A fully equipped ski and boot room adjoins, with dedicated lockers, bike storage and well-appointed large powder room. The Ski Room can be entered directly from outside by skiers granted security access.

The lobby gallery leads to a dedicated resident elevator, with several apartments, including the penthouses having private elevator access directly into the residences.
The apartments, varying in size from studios to five bedrooms are appointed with an abundance of natural materials including timber, stone and wall fabrics, with soft earth tones and rich character and texture befitting an alpine chalet in Japan. Cabinetry, kitchen and bathroom equipment and hardware are of the highest quality European and Japanese brands.

Fireplaces adorn every apartment (except the studio) contributing to an ambiance framed by soft and programmable lighting and concealed but highly efficient heating and cooling systems.

Furniture, accessories are of the highest order, predominantly European brands but with select items by renowned Japanese designers as well. Carefully selected by Atsuko Itoda for their iconic design character, sympathetic forms and simple elegance, cutlery, crockery, linens and daily items provide all the necessary comforts for a memorable stay. Audiovisual entertainment is provided by widescreen TVs and the latest home theater technology in living rooms and master bedrooms, with remaining bedrooms equipped to accommodate the same if owners desire.

Bathrooms are spacious and filled with natural light, synchronous with the high level of luxury that pervades each residence. Japanese washlet toilet/bidets are provided throughout, and large baths are configured in the Japanese manner so as to allow overflow into the standing shower area without fear of flooding. Rain showers add to the therapeutic experience intended for the bathroom design. Well-equipped laundry facilities in each apartment including washer and dryer, together with generous closets and storage, as well as lockable long-term owners closets complete the range of amenities desired by the most exacting short and long-term guest and owner.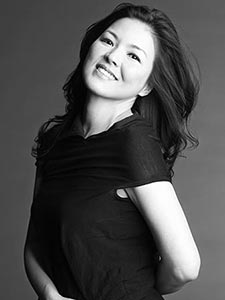 Atsuko Itoda
Muse Niseko Producer & Interior Architect
Muse Niseko is designed for connoisseurs who appreciate Niseko's beautiful scenery and unique rural culture. Promotion and maximum enjoyment of Niseko's volcanic and pastoral riches are one of MUSE's conceptual design goals, where design features emphasize and make accessible this wealth of natural beauty in every way.
Panoramic views of the Mt. Yotei volcano are available from most apartments. The unique architectural facade detailing accentuates the ever-changing character of powder snow and sunlight. MUSE circulation planning allows easy access to Hirafu Village restaurants and adjacent shuttle bus stops that connect the various mountain resort villages and gathering places. A two-level adventure sports shop is next to the Lobby.
Many visitors travel to Niseko to see breathtaking landscapes, to experience wondrous nature, to touch its famous powder snow and to enjoy fresh and delectable Hokkaido produce, renowned for its organic purity. As Kyoto is to Japanese historical architectural heritage, Niseko is the pinnacle of Japan's spectacular natural beauty and sublime rural vistas. Discovered by international visitors only 10 years ago, Niseko remains unspoiled and retains a strong vernacular and rustic character.
As a tourist destination Niseko will be a successful model for other exquisite, undiscovered areas of Japan. As a "green" industry, tourism allows appreciation of Japans' aesthetic allure and culture by visitors, while encouraging Japanese people to realize the value and importance of protecting their own heritage. MUSE Niseko was conceived to play a meaningful role in this process.
Please stay at MUSE – relax and enjoy the best Niseko has to offer.